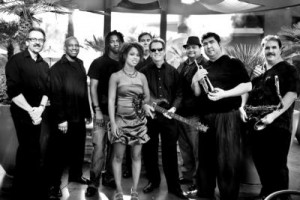 Ние можем да изпълняваме много и разнообразни парчета от над 100 различни световно известни изпълнители. Стараем се да предоставим максимално разнообразие за да може Вие да изберете това, което ви допада най-много.
Ето и кратък списък с основните песни, които можем да изпълним.
Aint No Stoppin Us Now McFadden & Whitehead
Ain't to Proud to Beg Temptations
Ascension Maxwell
At Last Etta James
Bad Girls Donna Summer
Bad Romance Lady Gaga
Beginnings Chicago
Best of My Love Emotionis
Black Horse Cherry Tree KT Tunstall
Black Majic Woman Santana
Black Velvet Alanah Myles
Boogie Oogie Oogie A Taste of Honey
Born in Chicago Paul Butterfield Blues Band
Brick House Commodores
Brown Eyed Girl Van Morrison
California Gurls Katy Perry
Car Wash Rose Royce
Celebration Kook & The Gang
Chain of Fools Aretha Franklin
Crazy Patsy Cline
Crazy Gnarls Barkley
Dance to the Music Sly and the Family Stone
Disco Inferno The Trampps
DJ Got Us Fallin' in Love Usher
Don't Know Why Alicia Keys
Don't Stop Believin' Journey
Ако тези не са ви достатъчни, ето и още малко!
Don't Stop the MusicRihanna
Don't Stop Til' You Get EnoughtMichael Jackson
Don't You Wanna StayJason Aldean
DreamsFleetwood Mac
Evil WaysSantana
Feel LIke Makin' LoveRoberta Flack
Feelin AlrightJoe Cocker
For the Love of YouIsley Brothers
Forget YouCee Lo Green
Friends in Low PlacesGarth Brooks
Game of LoveSantana & Michelle Branch
Get Down On itKool & The Gang
Get Down TonightKC and the Sunshine Band
Get This Party StartedPink
Give it to my BabyRick James
Give Me One ReasonTracy Chapman
Good TimesChic
Got to be RealCheryl Lynn
Heart of Rock & RollHuey Lewis & the News
Hella GoodNo Doubt
Hold On, I'm CominSam & Dave
I Can't Make You Love MeBonnie Raitt
I Got a FeelingBlack Eyed Peas
I Love the NightlifeAlicia Bridges
I Wann Be Your LoverPrince
I Will SurviveDonna Summer
I WishStevie Wonder
If I Aint Got YouAlicia Keys
In the Midnight HourWilson Pickett
It's Not UnusualTom Jones
Johnny B. GoodeChuck Berry
Just My ImaginationTemptations
KissPrince
La BambaLos Lobos
Ladies NightKool & The Gang
Lady MarmaladePatti LaBelle
Last DanceDonna Summer
Lets Groove TonightEarth, Wind & Fire
Lets Stay TogetherAl Green
Long Train RunninDoobie Brothers
Man, I Feel Like A WomanShania Twain
MargaritavilleJimmy Buffet
MistyErrol Garner
Mustang SallyWilson Pickett
Need You NowLady Antebellum
Nothing Can Come Between UsSade
On the FloorJennifer Lopez
Ooh Baby BabyLinda Ronstadt
Oye Como VaSantana
Pick Up the PiecesCandy Dulfer
Play That Funky MusicWild Cherry
Proud MaryTina Turner
RespectAretha Franklin
Rhythm is Gonna Get YouGloria Estefan
Roll With ItSteve Winwood
Rollin in the DeepAdele
SeptemberEarth, Wind and Fire
Shake Your Body to the GroundMichael Jackson
Shake, Shake, ShakeKC and The Sunshine Band
SmoothSantana & Rob Thomas
Smooth OperatorSade
Some Kind of WonderulGrand Funk
Soul ManSam & Dave
SpookyClassics IV
Stormy Monday BluesT-Bone Walker
SuperstitionStevie Wonder
SwayPussy Cat Dolls
Sweet ThangChaka Khan
Take Me To the RiverDelbert McClinton
Take Your Time (Do it Right)The S.O.S. Band
The Way You Look TonightFrank Sinatra
This One's for the GirlsMartina McBride
Thrill is GoneBB King
What You Won't Do for LoveBobby Calwell
Who Says You Can't Go HomeBon Jovi & Jennifer Nettles
You Dropped a Bomb on MeThe Gap Band
You're Still the OneShania Twain
You're the Best ThingGladys Knight
По заявка можем да разгледаме и изучим произволна избрана от вас песен. Само ни предупредете малко по-рано за да имаме време да се подготвим.